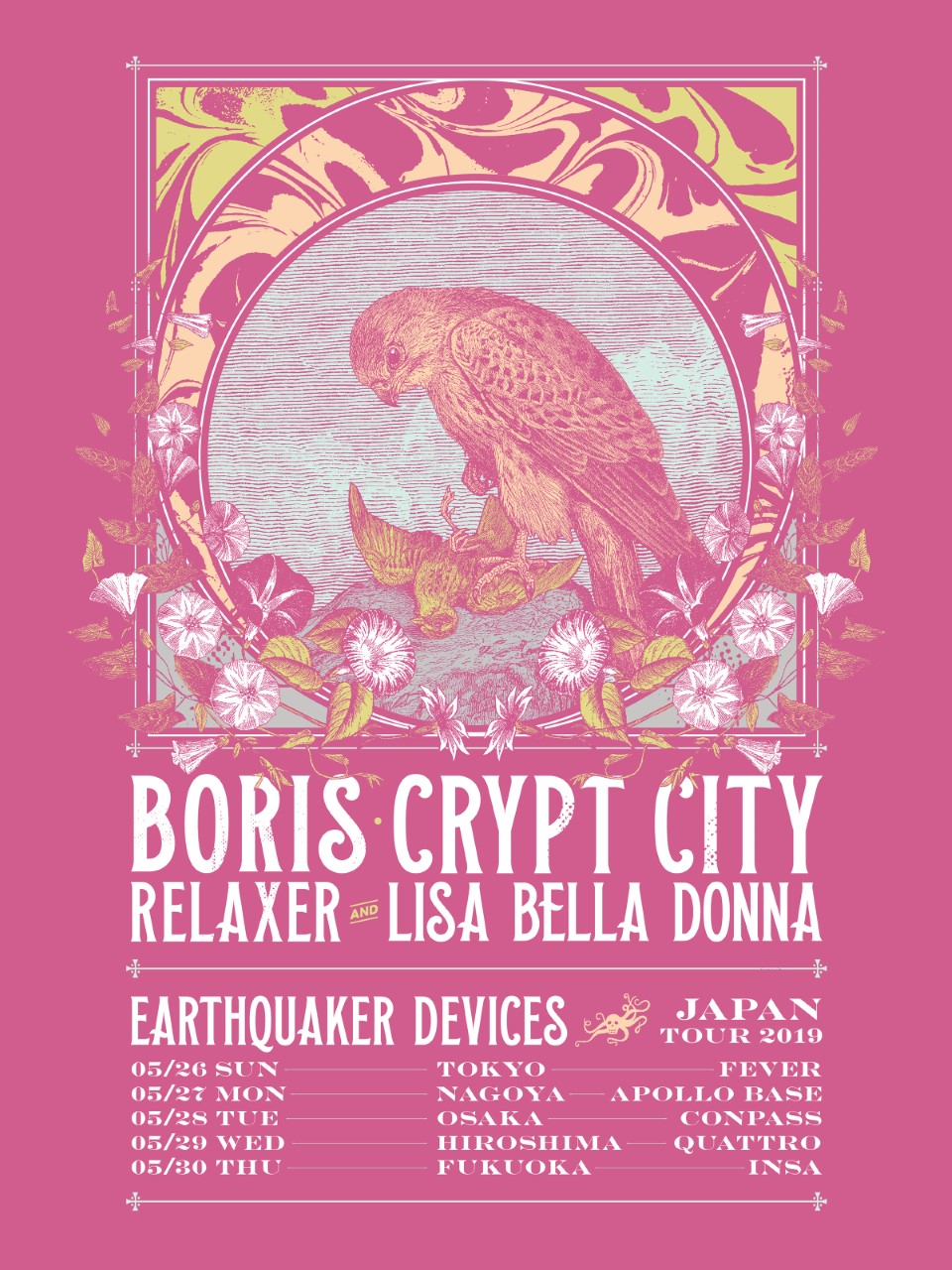 EarthQuaker Devices Tour 2019
2019/05/26 (Sun.) - 2019/05/30 (Thu.)
From May 26 to May 30 in 2019, they are having a tour in 5 cities including Tokyo, Nogoya, Osaka, Hiroshima, and Fukuoka.
In this tour, the Earth Quaker Devices (EQD) pedals will be promoted at the same time, and EQD artists from Japan and US are having gigs together.
From US, we have a Psych Rock band Relaxer led by Jamie Stillman, the owner and the designer for EQD, using lots of smokes and lights on the stage adding flower-like flavors to the heaviness of the band. Being a main demo artist for EQD, she does recordings and live sessions as well as being active as a keyboardist for a Psych Progressive Rock band Eye, she is such a multi-player, and her name is Lisa Bella Donna.
From Japan, we have a band called Crypt City led by Kentaro Nakao, a bassist from NUMBER GIRL who has just announced reunion, and is active and representing EQD Japan.Finally, Boris. It's been 25th year since their union, and the band is already moving on to the next mode, literally active worldwide.
We will have these 4 bands playing at each venue.
At each venue, there will be a booth section where all kinds of EQD pedals can be experienced which allows you to actually touch and experience the sound and designs of them.Also, at each venue, you can actually experience and find out the reason for the well-recognition, ranking top 5 in the pedal industry outside Japan, and pedals are scheduled to be there for sale as well. On top of that, the highlight of enjoying EQD pedals is this.Sam Wandtke who draws doodles at the back covers of pedals is also touring together. For those actually buying pedals at the venue or already bought and possess EQD pedals and wish to have Sam draw doodles on them get the chance to have her draw doodles there.
Frequently requested EQD T-shirts, other apparel items, and tour limited edition items are scheduled to be there for sale as well.